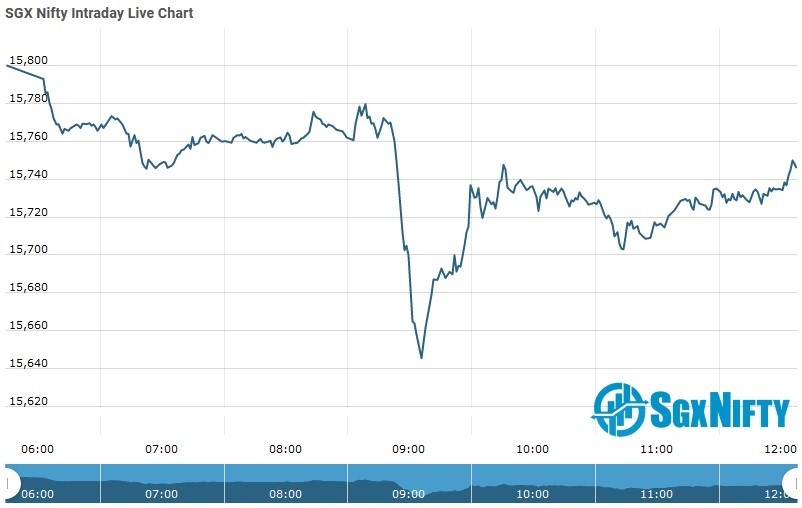 The  SgxNifty Future is trading at 15,745.80 with -0.48% percent or -74.40 point. The Nikkei 225 Future is trading at 29,112.50 with +0.34% percent or +97.50 point.The Hang Seng Future is trading at 28,715.50 with +0.38% percent or +107.50 point.
TODAY'S FACTORS AND EVENTS
Shares of Indraprastha Gas Ltd. slipped 0.64 per cent to Rs 533.1 in Monday's trade as of 11:55AM (IST). It hit a high of Rs 538.8 and low of Rs 527.0 during the session.
The stock quoted a 52-week high price of Rs 594.85 and a low of Rs 364.3. The return on equity for the stock stood at 23.31 per cent. About 72,345 shares have changed hands on the counter so far.
PREVIOUS DAY ACTIVITY
For the day the  nifty closed at 15,721.85 with 0.49% percent or ?77.50 point.Nikkei 225 is trading at 29,161.80 up with 0.74% percent or +213.07 point. Hong Kong's Hang Seng is trading at 28,842.13 up with  +0.36% percent or +103.25 point.
WORLD MARKETS
For the day the Dow is trading at 34,466.24 with +0.055% percent or +19.10 point. The S&P 500 is trading at 4,239.18 with + 0.47% percent or +19.63 point. The Nasdaq Composite is trading at 14,020.33 up with +0.78% percent or +108.58 point.
In other parts of world, Japan's Nikkei 225 is trading at 28,969.10 up with +0.036%  percent or +10.54 point. Hong Kong's Hang Seng is trading at 28,897.41 up with 0.55% percent or +162.07 point. China's Shanghai  Composite is trading at 3,601.97 with a loss of –0.25% percent or ?8.89  point. India's BSE Sensex is trading at 52,509.12 up with +0.40% percent or +208.65 point at 12:15 PM.