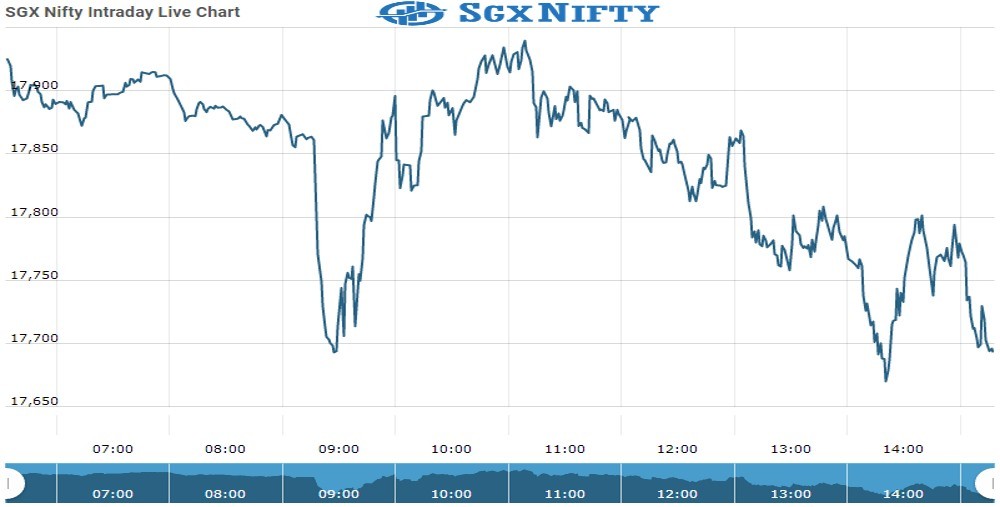 SgxNifty Futures Update : 29 Oct 2021
The  SgxNifty Future is trading at 17,692.80 with a loss of   -0.92% or -164.50 point. The Nikkei 225 Future is trading at 28,833.00 with +0.25% percent or +73.00 point.The Hang Seng Future is trading at 25,355.50 with a loss of –0.92% percent or -236.50 point.
TODAY'S FACTORS AND EVENTS
Overall fundamentals are still strong for this counter but the market will hesitate to give valuations that it was enjoying before this event because such kind of risk will remain in the mind of investors. The roller coaster ride led to a sharp rise in option IVs i.e the value of OTM options, therefore, option writers and arbitragers are looking at it as a golden opportunity as uncertainty is out of the window for time being. The option writer may try to keep this counter range-bound for November.
PREVIOUS DAY ACTIVITY
For the day the  nifty closed at 17,712.40  with a loss of   -0.81% percent or -144.85 point.Nikkei 225 is trading at 28,892.69 up with 0.25% percent or +72.60  point. Hong Kong's Hang Seng is trading at 25,388.42 with a loss of -0.65% or -167.31  point.
WORLD MARKETS
For the day the Dow is trading at 35,730.48 up with +0.68% percent or +239.79   point. The S&P 500 is trading at 4,596.42  up with +0.98% percent or +44.74  point. The Nasdaq Composite is trading at 15,448.12  up with +1.39% percent or +212.28  point.
In other parts of world, Japan's Nikkei 225 is trading at 28,862.46 up with +0.15% percent or  +42.37  point. Hong Kong's Hang Seng is trading at 25,409.29  with a loss of – 0.57% percent or –146.44 point. China's Shanghai Composite is trading at 3,539.50 up with +0.60% percent or +0.58 point. India's BSE Sensex is trading at 59,864.85 with a loss of –0.80% percent or –490.12   point at 12:15 PM