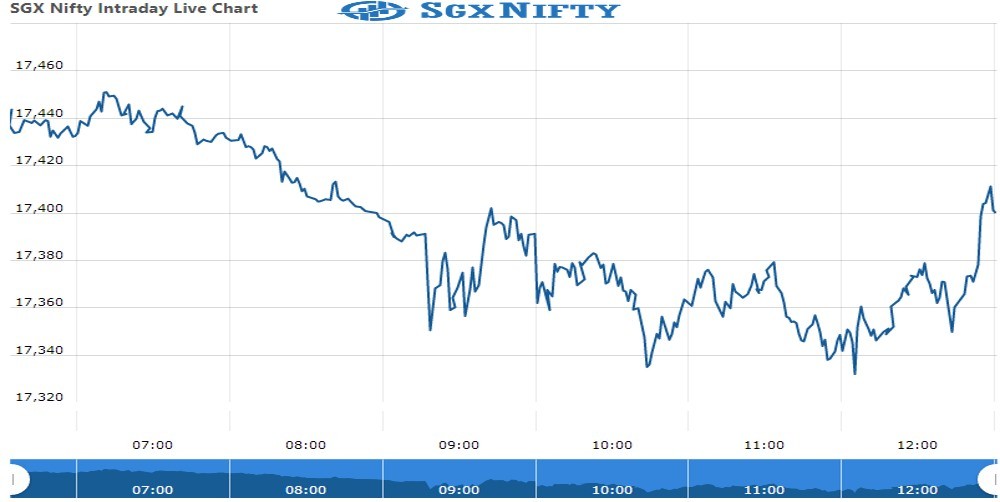 SgxNifty Futures Update : 29 March 2022
The  SgxNifty Future is trading at 17,400.00 with +0.76% or +131.05 point. The Nikkei 225 Future is trading at 27,995.00 with +1.25% percent or +345.00 point.The Hang Seng Future is trading at 21,900.00 with +0.70% percent or +153.00 point.
TODAY'S FACTORS AND EVENTS
The country's oldest stock exchange BSE has also embarked on a search for a chief executive and managing director as the incumbent Ashish Kumar Chauhan's term has ended. The move comes at a time when its bigger rival NSE, which controls a large part of trade volumes in the country, has also initiated a similar process for its chief. Interestingly, some reports mention that Chauhan is in the race to take over the corner office at NSE.
PREVIOUS DAY ACTIVITY
For the day the  nifty closed at 17,273.90 up with +0.30% percent or +0.30% point.Nikkei 225 is trading at 28,252.42 with 1.10% percent or +308.53  point. Hong Kong's Hang Seng is trading at 21,866.18 up with +0.84% or +181.21 point.
WORLD MARKETS
For the day the Dow is trading at 34,955.89 up with +0.27% percent or +94.65 point. The S&P 500 is trading at 4,575.52 with 0.71% percent or +32.46 point. The Nasdaq Composite is trading at 14,354.90 up with 1.31% percent or +185.60  point.
In other parts of world, Japan's Nikkei 225 is trading at 28,189.41 up with +0.88% percent or +245.52 point. Hong Kong's Hang Seng is trading at 21,854.16  up with +0.78% percent or +169.19 point. China's Shanghai Composite is trading at 3,210.24 with a loss of –0.13% percent or –4.26 point. India's BSE Sensex is trading at 57,830.41 up with +0.41% percent or +236.92  point at 12:15 PM.