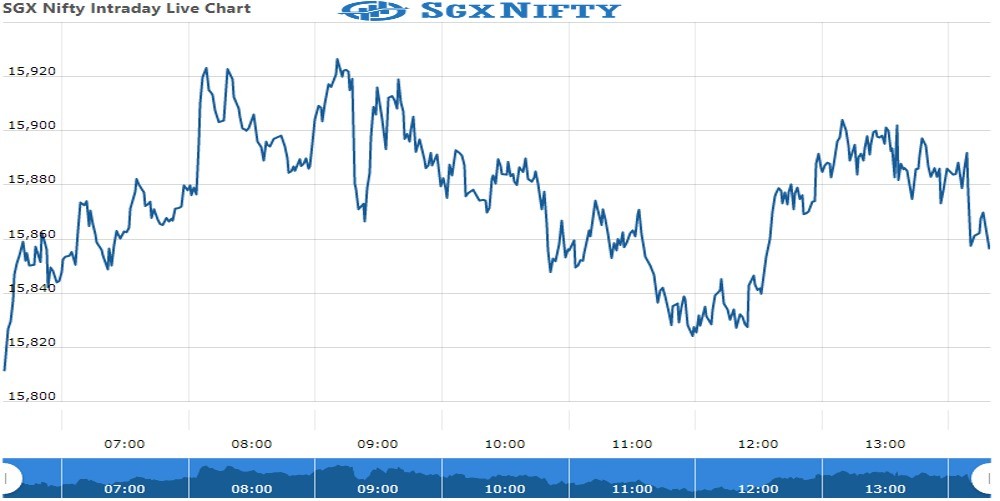 SgxNifty Futures Update : 27 June 2022
The  SgxNifty Future is trading at 15,856.20 up with +0.87% or +137.30 point. The Nikkei 225 Future is trading at 26,453.0 with +1.27% percent or +333.0 point.The Hang Seng Future is trading at 21,517.5 with ++1.36% percent or +288.5 point.
TODAY'S FACTORS AND EVENTS
Gains in the global markets after Recent positive news on recovery in monsoons, decline in crude prices and collapse in metal prices raises hopes about domestic inflation peaking over the next few months and trending down in the second half of FY23. Inflation remains the key variable for global and domestic markets and any signs of easing in inflation will likely provide a cap to bond yields and a bottom to markets. Of course, upside risks to inflation remain apart from risks from policy mistakes.". said Kotak Institutional Equities in its recent note to investors.
PREVIOUS DAY ACTIVITY
For the day the  nifty closed at 15,679.85 up with 0.79% percent or +123.20  point.Nikkei 225 is trading at 26,491.97 up with +1.23% percent or +320.72 point. Hong Kong's Hang Seng is trading at 21,719.06 up with +2.09% or +445.19 point.
WORLD MARKETS
For the day the Dow is trading at 30,677.36 with 0.64% percent or +194.23   point. The S&P 500 is trading at 3,795.73 up with +0.95% percent or +35.84 point. The Nasdaq Composite is trading at 11,232.19 with +1.62% percent or +179.11   point.
In other parts of world, Japan's Nikkei 225 is trading at 26,491.97 with 1.23% percent or +320.72 point. Hong Kong's Hang Seng is trading at 21,666.84  with 1.85% percent or +392.97 point. China's Shanghai Composite is trading at 3,349.75 with 0.89% percent or +29.60 point. India's BSE Sensex is trading at 52,592.70  up with +0.63% percent or +326.98  point at 12:15 PM.