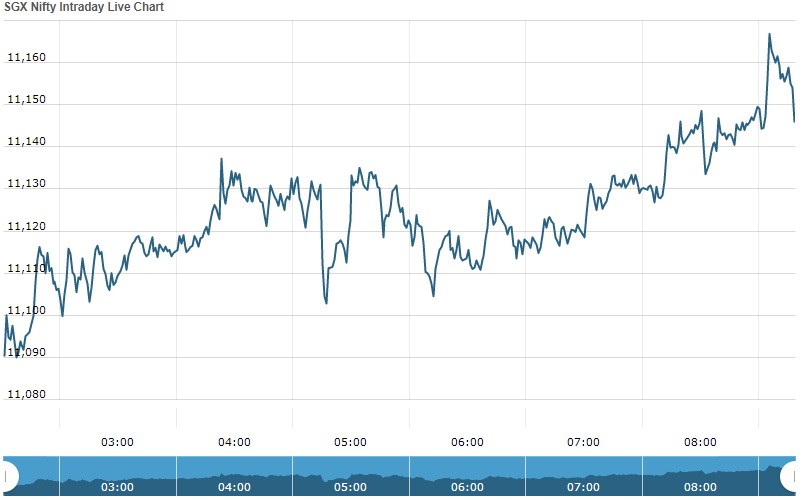 The  Sgx Nifty Future is trading at 11,139.00 up with +1.17% percent or +128.75 point. The Nikkei 225 Future is trading at 22,892.50 up with +0.48% percent or +109.50 point.The Hang Seng Future is trading at 25,556.00 up  with +1.27% percent or +320.50 point.
TODAY'S FACTORS AND EVENTS
 positive global markets, foreign institutional investors (FIIs), sentiment, negative domestic institutional investors (DIIs) and negative futures & options (F&O) cues, the short-term trend of the Indian stock markets will be positive Tuesday, July 21, 2020.
Benchmark domestic stocks on Monday, July 20, 2020, surged more than one per cent amid mixed global cues. Nifty reclaimed 11,000-mark. Encouraging Q1 earnings from index pivotals countered the impact of the surge in domestic coronavirus cases
 For the day the  nifty closed at

 11,152.50

 

up with +

1.18%

 

percent or

 +130.30 

point.Nikkei 225 is trading at

 22,884.22 up 

with +

0.73%

 

percent or

 +166.74

 

 

point. Hong Kong's Hang Seng is trading at

 25,567.50

 up 

with +

2.03%

 

percent or

 

 +509.51

 point.
WORLD MARKETS
For the day the Dow is trading at 26,680.87  up with +0.033% percent or +8.92 point. The S&P 500 is trading at 3,251.84 up with +0.84% percent or +27.11 point. The Nasdaq Composite is trading at 10,767.09  up with +2.51%percent or +263.90 point.
In other parts of world, Japan's Nikkei 225 is trading at at 22,884.22 up with +0.73% percent or +166.74 point. Hong Kong's Hang Seng is trading at 25,494.96 up with +1.74% percent or +436.97  point. China's Shanghai  Composite is trading at 3,313.90 with a loss of –0.0074% percent or ?0.24 point. India's BSE Sensex is trading at 37,853.79 up with +1.16% percent or  +434.80   point at 12:15 PM.