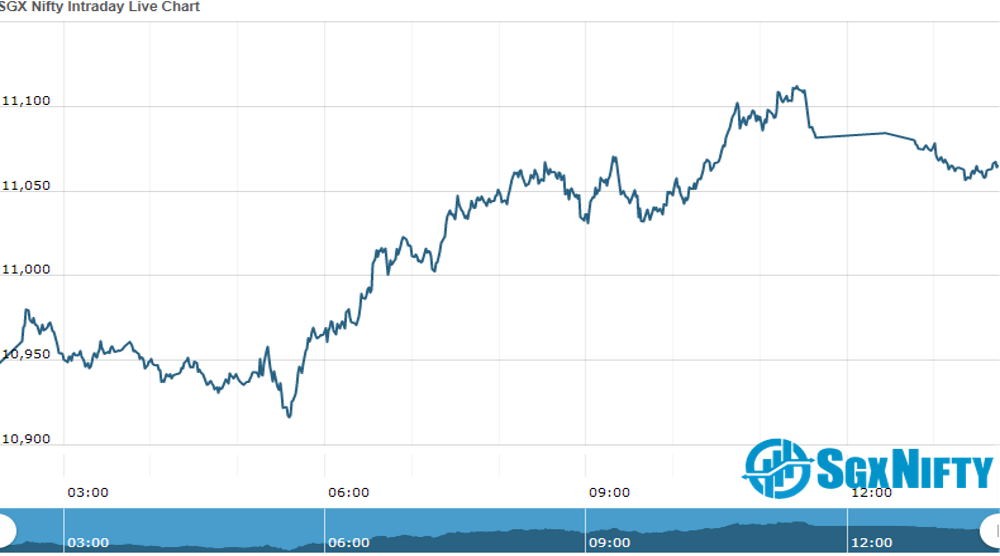 The  Nifty Future is trading at 11,056.50 up with +1.31% percent or +143.10 point. The Nikkei 225 Future is trading at 22,418.00 up with +1.48% percent or +328.00 point.The Hang Seng Future is trading at 24,865.00  up with +1.96% percent or +478.00 point.
TODAY'S FACTORS AND EVENTS
The RIL stock remained flattish between December 2009 and 2016. Since then, it has rallied four times. The recent fund raise, deleveraging of balance sheet and several initiatives on the digital and consumer businesses have boosted sentiment and earned the stock a re-rating. At 9 per cent of India's listed market-cap, it has been a sensational jump of three times from a meager 3 per cent contribution in December 2014
 For the day the  nifty closed at

 11,095.25 up 

with +

1.87%

 

percent or

 +203.65 

point.Nikkei 225 is trading at

 22,573.66 up 

with +

1.70%

 

percent or

 +378.28

 

 

point. Hong Kong's Hang Seng is trading at

 24,946.63

 up 

with +

2.00%

 

percent or

 +488.50

 point.
WORLD MARKETS
For the day the Dow is trading at 26,664.40 up with +0.89% percent or +236.08 point. The S&P 500 is trading at 3,294.61 up with +0.72% percent or +23.49 point. The Nasdaq Composite is trading at 10,902.80 up with +1.47% percent or +157.52 point.
In other parts of world, Japan's Nikkei 225 is trading at at 22,573.66 up with +1.70% percent or +378.28 point. Hong Kong's Hang Seng is trading at 24,946.63 up with +2.00% percent or +488.50 point. China's Shanghai  Composite is trading at 3,371.69 up with +0.11% percent or +3.72 point. India's BSE Sensex is trading at 37,687.91 up with +2.03% percent or +748.31  point at 12:15 PM.