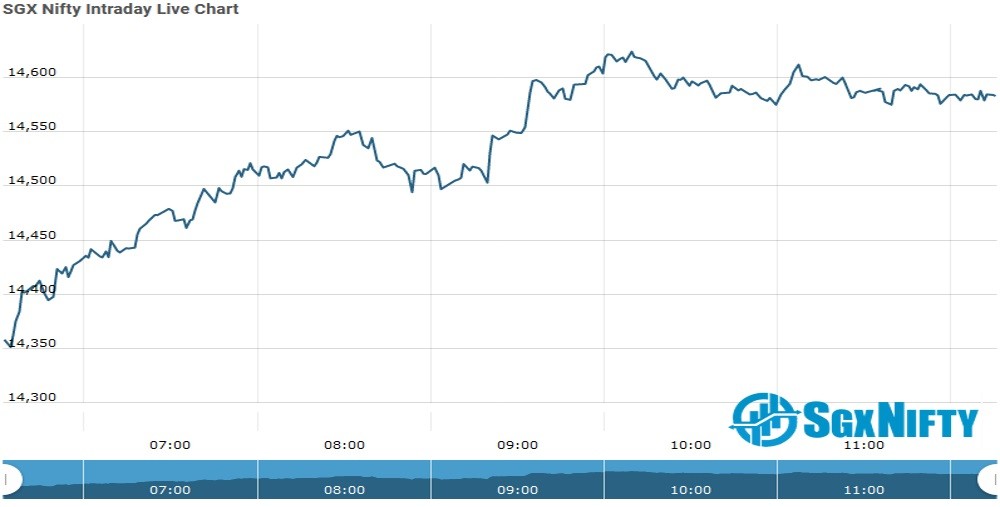 The  SgxNifty Future is trading at 14,583.00 up with +1.74% percent or +250.00 point. The Nikkei 225 Future is trading at 29,157.50 with a loss of -0.19% percent or -55.50 point.The Hang Seng Future is trading at 28,799.00 with a loss of -0.26% percent or -76.00 point.
TODAY'S FACTORS AND EVENTS
It was majorly due to an unexpected surge in COVID-19 cases across the country, with Maharashtra leading with the highest number of reported cases (Maharashtra contributes ~18-22% of India's GDP).
However, the announcement by the Prime Minister with respect to citizens above the age of 18 being eligible to be vaccinated from May 1, 2021 and easing the supply chain for Remdesivir gave some support to the market.
PREVIOUS DAY ACTIVITY
For the day the  nifty closed at 14,523.80 up with +1.27% percent or +182.45 point.Nikkei 225 is trading at 29,133.54 up with +0.39% percent or +112.91 point. Hong Kong's Hang Seng is trading at 29,015.86 with a loss of –0.22% percent or ?62.89 point.
WORLD MARKETS
For the day the Dow is trading at 34,043.49  up with 0.67% percent or +227.59 point. The S&P 500 is trading at 4,180.17  up with 1.09% percent or +45.19 point. The Nasdaq Composite is trading at 14,016.81 up with +1.44% percent or +198.39 point.
In other parts of world, Japan's Nikkei 225 is trading at at 29,141.84 up with 0.42% percent or +121.21 point. Hong Kong's Hang Seng is trading at 29,086.76 up with +0.028% percent or +8.01 point. China's Shanghai  Composite is trading at 3,469.55 with a loss of –0.20% percent or ?6.80 point. India's BSE Sensex is trading at 48,586.26 up with +1.48% percent or +707.81 point at 12:15 PM.