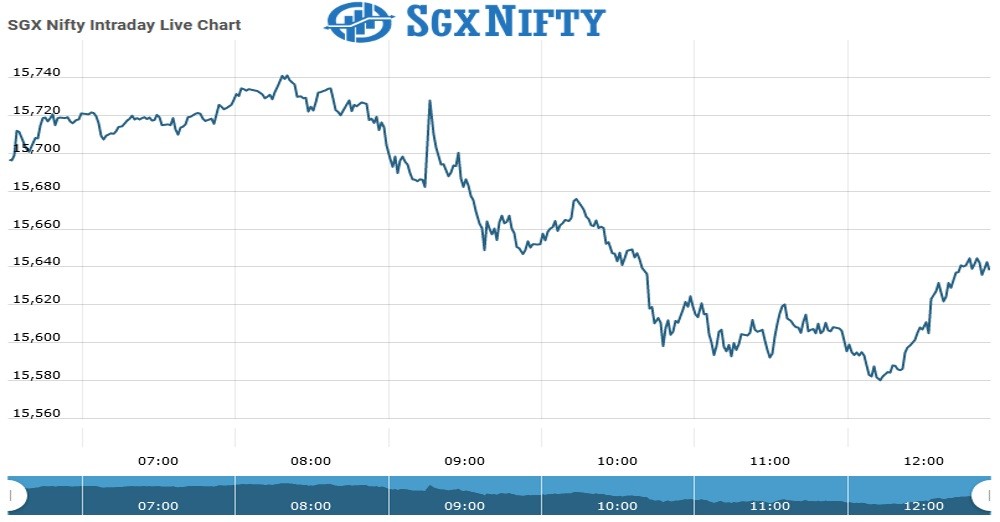 SgxNifty Futures Update : 20 July 2021
The  SgxNifty Future is trading at 15,642.50 with a loss of -0.70% or -109.90 point. The Nikkei 225 Future is trading at 27,400.00 with a loss of -0.72% percent or -200.00 point.The Hang Seng Future is trading at 27,197.50  with a loss of -0.99% percent or -271.50 point.
TODAY'S FACTORS AND EVENTS
There was no respite for the Indian equity market on July 20 as well, with a strong wave of selloff across sectors pulling down the flagship indices the Sensex and the Nifty lower by a percent.
The market opened lower, extending the losses of the previous session, amid weak global cues. The Sensex and the Nifty both fell about a percent in morning trade, while the mid and smallcaps suffered more.
At 1130 hours, the BSE Sensex was 457 points, or 0.87 percent, down at 52,096, while the Nifty was at 15,603, down 149 points or 0.95 percent.
PREVIOUS DAY ACTIVITY
For the day the  nifty closed at 15,579.85 with a loss of –1.10% percent or –170.70 point.Nikkei 225 is trading at 27,388.16 with a loss of –0.96% percent or –264.58 point. Hong Kong's Hang Seng is trading at 27,205.71  with a loss of –1.03% percent or –283.53 point.
WORLD MARKETS
the Dow is trading at 33,962.04 with a loss of –2.09% percent or 725.81 point. The S&P 500 is trading at 4,258.49 with a loss of –1.59% percent or –68.67 point. The Nasdaq Composite is trading at 14,274.98 with a loss of –1.06% percent or –152.25 point.China's Shanghai Composite is trading at 3,521.60 with a loss of –0.50% percent or –17.53 point. India's BSE Sensex is trading at 52,073.70 with a loss of –0.91% percent or –479.70 point at 12:15 PM.