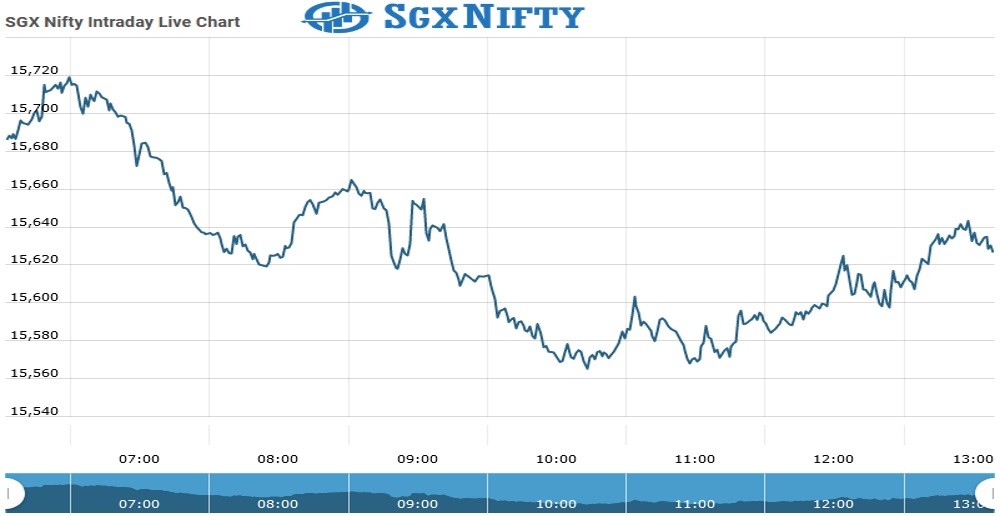 SgxNifty Futures Update : 21 July 2021
The  SgxNifty Future is trading at 15,626.50 with a loss of -0.07% or -10.70 point. The Nikkei 225 Future is trading at 27,620.00 up with +0.77% percent or +210.00 point.The Hang Seng Future is trading at 27,154.00 with a loss of -0.30% percent or -81.00 point.
TODAY'S FACTORS AND EVENTS
The Nifty and Sensex have lost 1.50 per cent in the last two days. The Bank Nifty and Nifty Metal indices have fallen more than 3.5 per cent in just two trading sessions. These are indications of leaving long posts. FIIs have been consistently selling in the market and on Monday they sold more than Rs 2,000 crore. This was mainly due to a strong surge in the US bond market. Investors opted for 10-year Treasury bonds rather than equities, and this led to an unprecedented rise in the bond market.
PREVIOUS DAY ACTIVITY
For the day the  nifty closed at 15,632.10 with a loss of –0.76% percent or –120.30 point.Nikkei 225 is trading at 27,548.00 up with +0.58% percent or +159.84 point. Hong Kong's Hang Seng is trading at 27,179.10 with a loss of –0.29% percent or –80.15 point.
WORLD MARKETS
For the day the Dow is trading at 34,511.99 up with +1.62% percent or +549.95 point. The S&P 500 is trading at 4,323.06 up with +1.52% percent or +64.57 point. The Nasdaq Composite is trading at 14,498.88 up with +1.57% percent or +223.89 point.China's Shanghai Composite is trading at 3,559.72 with a loss of –0.65% percent or +22.93 point. India's BSE Sensex is trading at 52,198.51 with a loss of –0.68% percent or –354.89 point at 12:15 PM.